Date: 2019-10-22
Updated: 2020-12-01
Author: Erik Leth Danielsen
My new Server run Linux Debian 10 Buster Stable KDE
My new KDE Desktop everything just works. (Numix Theme)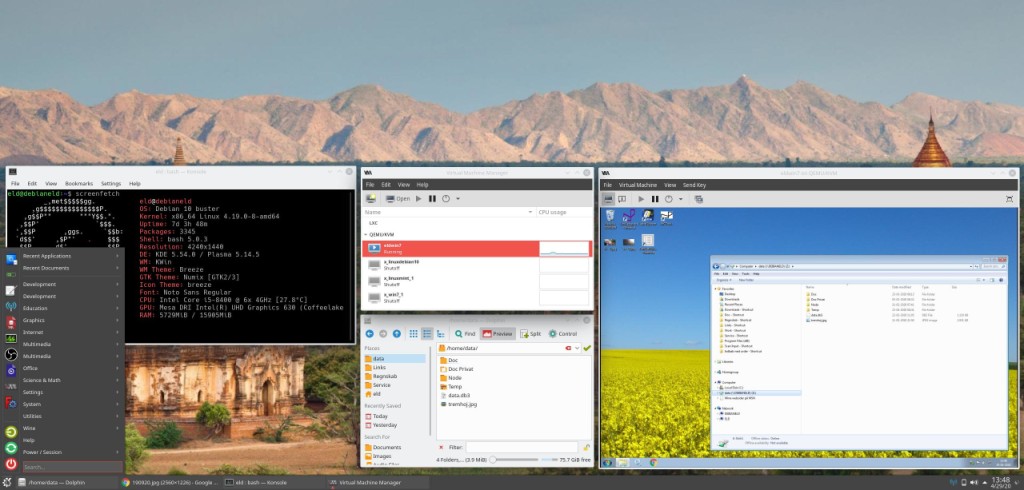 My old XFCE Desktop I run that for 5 month, before switching to KDE.
XFCE is nice but like most other desktops developed in GTK, it's done by people sitting on each their island,
so it will never get more the 90% finished.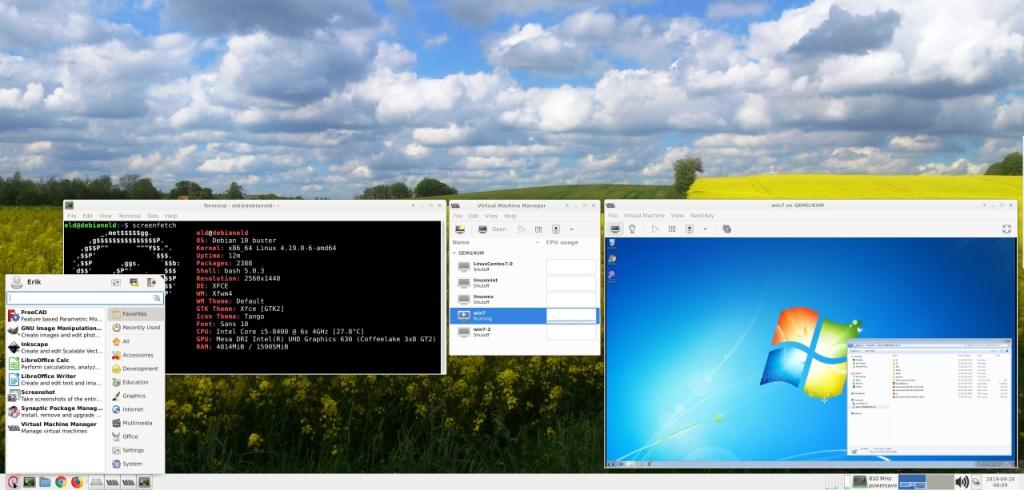 ---
Short
I don't like the way Windows is going, I like my privacy, and like to decide when to update my system.
So for the last 5 years I have been looking for a open source alternative, there exist many
Linux distributions
they are pretty similar,
the main two branches are Debian and Arch.
I have selected the grandfather of them all Debian, the newest version Debian 10 Buster.
Everything works out of the box, google have also moved theres desktop PCs from Ubuntu Goobuntu to Debian Testing called gLinux, and the international space station moved from Windows XP to Debian in 2013 for reasons of reliability, stability.
Even Microsoft Azure is running on Linux.
There are 3 different branches: Stable, Testing and Unstable.
I like stability it's boring but it works, So therefor my system runs Debian 10 Buster Stable.
The Desktop
I have moved to KDE after running XFCE for 5 month.
I think KDE is the most complete / consistent desktop because it's the only one written in QT.
Each Linux Distribution have many different Desktops, Debian have the most common ons, Cinnamon, GNOME, KDE Plasma, LXDE, LXQt, MATE, Xfce, you can select which to install in the installation, the default one is Gnome but many also runs the lightweight Xfce desktop, it's familiar, look like windows.
Each Desktop consist of many programs e.g. Menu, terminal, file manager, text editor the user can make there own adjustment to get it exactly as they want,
In XFCE I have changed the standard start menu to the Whisker menu, and the file manager from Thunar to Nemo
KDE is much simpler evrything just works.
Data Folder Structure
Before setting up Samba Share you need a data structure / folder to share.
Read:
Data Folder Structur
Smb Samba File Sharing
Is a open source version of the SMB protocol windows file and printer sharing.
You can set up permissions to a folder on the linux server so all the machines and virtual machines on the network, windows and linux can access it. Read:
Smb Samba File Sharing
Virt Manager KVM (kernel-based virtual machine)
Is a open source tool for running other machines on your linux server, windows and linux.
I'm using it for running my old windows 7 pc. and doing test on other operating systems.
Virt Manager is a user interface for maningen QEMU running KVM
KVM's runs nearly native performance, so I can work on my windows 7 machine as it was installed on it's own hardware.
Read:
Virt Manager Qemu Kvm
Virt P2V
libguestfs tools for accessing and modifying virtual machine disk images.
I have used this for moving my old windows 7 pc over on my linux server
Read:
Virt P2V Move Windows To Linux

WineHQ, Winetricks
Is a compatibility layer for running windows programs on Linux.

The new version of WineHq can run nearly all windows programs, 
there have been happening a excessive development on it by game developers as Valve for Steam and Proton, 
many windows games are moved to linux.


Node.js npm
Have used this to run my homepage on linux.

On Windows my homepage was running in IIS ASP.NET
it only took a week to rewrite meldco.dk to node.js
utilizing Node.js Express EJS Session Sqlite3 PM2 Certbot
https://www.npmjs.com
https://nodejs.org
Example: Node Express Letsencrypt Certbot on Linux


Hardware
The hardware for my new server.

Intel Core i5-8400 Coffee Lake CPU - 2.8 GHz - Intel LGA1151 - 6 Core
ASUS PRIME H310M-A R2.0 Motherboard - Intel H310 - Intel LGA1151 socket - DDR4 RAM - Micro-ATX
Corsair Vengeance LPX DDR4-2666 C16 BK DC - 16GB
Samsung 970 EVO SSD M.2 2280 - 250GB
Inter-Tech IT-607 - Cabinet - Miditower - Black
LC Power SFX Series V3.21 - 300W Power supply - 285 Watt - 80 mm - 80 Plus
Dell 24" QHD Screen P2418D - Black - 5 ms

---

Sources
Get Debian: https://www.debian.org
gLinux: https://www.youtube.com/watch?v=cdSiQGnkAmg
ISS: https://www.telegraph.co.uk/~/International-Space-Station-to-boldly-go-with-Linux-over-Windows.html
Azure: https://www.zdnet.com/~/microsoft-developer-reveals-linux-is-now-more-used-on-azure-than-windows-server
Install Debian:https://www.youtube.com/watch?v=bB-gmnvYDao
WineHQ: https://www.youtube.com/watch?v=lI09QLkqZiE
Distributions: https://distrowatch.com
Linux Timeline: https://upload.wikimedia.org/wikipedia/commons/1/1b/Linux_Distribution_Timeline.svg
Linux Desktops: https://en.wikipedia.org/wiki/Comparison_of_X_Window_System_desktop_environments

Why Debian
Arthur Reeder: https://www.youtube.com/watch?v=J75BOg7Eq1M
Ianertson: https://www.youtube.com/watch?v=YbK9D7fESPg
MrGizmo757: https://www.youtube.com/watch?v=5uzpbXQS4F8
Kris Occhipinti: https://www.youtube.com/watch?v=rRsXhT3Q5fQ
Joe McEntire: https://www.youtube.com/watch?v=COQdoezpcro
Debian in Enterprise: A Google Case Study: https://www.youtube.com/watch?v=HnjdWT8QaeA

Other
Overview Debian vs Ubuntu: https://www.youtube.com/watch?v=9NJJ_f18D9s
Debian vs Arch: https://www.youtube.com/watch?v=EUHmEO3_zjU
Debian vs Arch: https://www.youtube.com/watch?v=yNUeqi3Ebv0
Debian vs Arch: https://www.youtube.com/watch?v=gtdYBc3p5Kw
QT vs GTK: https://www.youtube.com/watch?v=ON0A1dsQOV0